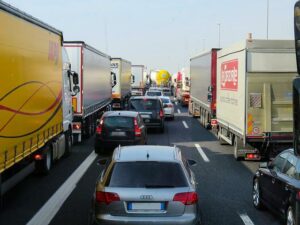 Truck accidents are a serious issue. After all, 18-wheeler trucks are typically about 20 times heavier than the average passenger car. If you were in an accident with a commercial truck, there are many reasons to hire an accident attorney for your case. In this article, we'll explain what your attorney does and how they help your case after you have been injured in a truck accident.
What is an Accident Attorney?
An accident attorney is a personal injury attorney that specifically handles accidents like car accidents and truck accidents. They are there to help you get compensation for your injuries, property damages, as well as non-economic damages like mental anguish and pain and suffering after you're injured in an accident. Your attorney can help with everything from negotiating with the insurance company for a settlement to fighting for your case in court. Their number one goal is to help you get fair compensation after an accident.
Why Hire a Truck Accident Attorney?
Truck accident cases can be pretty complicated. These types of crashes can happen for many reasons, with some of the top causes of truck accidents including:
Driving too fast

Tailgating

Failure to look

Illegal maneuvers

Distracted driving

Inattention

Fatigue

Being unfamiliar with the road

OTC or illegal drug use

Alcohol use
In addition, since commercial trucks are much larger than the average passenger car, these types of accidents can cause serious damage and severe injuries. The sheer amount of force involved means there's a much higher risk for severe injuries or even death. Therefore, there are many factors that can make your truck accident case more complex. That is why so many people hire a truck accident lawyer to help with their case. Here are some of the ways your accident attorney can help you fight for compensation:
Your Accident Attorney Can Help You Determine Value for Your Case
After a truck accident, you will likely go to the insurance company to file a claim. The adjuster may offer you a settlement pretty quickly that looks good on paper. However, it's hard to negotiate or tell what is and isn't a good offer if you don't really know the value of your case. A truck accident attorney can help you determine what your claim is worth so you can work to get fair compensation. Many insurance adjusters try to trick people into taking low ball claims by saying that that amount is the best they can do. Unfortunately, many people fall for these tactics every year and find that they could have received more compensation. 
An experienced accident attorney can assess the various damages in your case and help you determine a number that is fair for your case. This includes not only past and current expenses, but also future expenses, such as if doctors expect that you will need surgery in the future to help with the injury you received during the truck accident. This helps you be well-informed during negotiations and other phases of your case.
Liability in Truck Accident Cases Can be Complicated
Another way your accident attorney helps is identifying who may be liable for your damages. In some cases, there may even be multiple parties that share fault for your accident. This all depends on the specifics of your case. However, some potentially liable parties in a truck accident include:
Truck driver

:

In many cases, it's the truck driver's negligence that causes the accident, which makes them liable for the accident. Drivers are responsible for driving carefully and following the law. If they don't, they're liable for the damages and injuries they cause in a crash. If the driver is an independent contractor or even the truck owner, then they may even be the sole negligent party in your case.

Trucking company

:

You can often seek compensation from the trucking company after an accident. As an employer, they are typically liable for the actions of their truck driving employees. They may also share negligence by encouraging drivers to drive quickly or drive for longer than allowed by setting unrealistic schedules and deadlines.

Shipping company

:

Less commonly, the shipping company may be partly liable for your accident. If the shipping company overloads the trailer or loads it unevenly, then this can make it harder for the driver to maneuver and maintain control of the vehicle. So, if improper cargo loading caused your accident, you may have a case against the shipping company.

Vehicle manufacturer

:

In some cases, you may have a case against the truck manufacturer. If there was a defect in the design or manufacturing of the truck that caused the accident, then you can also seek compensation from the manufacturer.
Therefore, talk to your accident attorney about who may be liable in your case.
Your Houston Car Accident Lawyer can Help You Build Your Case
Another reason to hire a truck accident attorney for your case is to help you build your case. This involves gathering evidence of the other party's fault and creating a legal strategy for your case. Having a lawyer help you with this process can be invaluable. They can help you get evidence from many different sources, including witnesses. Also, for many commercial trucks today, there are actually recording devices that may have information about your accident. These devices can record everything from GPS and time to how fast the truck was going and even video of the interior and exterior of the truck. Your attorney can subpoena this information from the truck owner to help with your case. They can even hire accident reconstruction specialists to help provide evidence for your truck accident case.
Let Your Accident Attorney Do the Talking with the Insurance Company
Did you know that you're not obligated to talk to the insurance company after an accident? Many insurance adjusters will call pretty quickly after an accident to get a recorded statement. That statement can be used against you to devalue or even deny your claim. Adjusters often use tactics to try to get you to admit fault or that you're not as injured as you truly are without you even knowing what they're doing. Instead, you can simply say "my accident attorney will be in touch with you shortly." An experienced Houston car accident lawyer knows the tricks and the legal information needed to go to bat for your case with the insurance company. They can also negotiate for a fair settlement while you focus on healing from your crash.
Determining When to File a Lawsuit
In some cases, it's no longer helpful to deal with the insurance company. Maybe they deny your claim or won't negotiate for a fair settlement amount for your case. Your accident attorney can help you determine when it's time to file a lawsuit to seek compensation. Just keep in mind that most of these cases are settled out of court, so filing a lawsuit doesn't necessarily mean you'll need to go to trial. Sometimes filing a lawsuit is necessary to show the insurance company you mean business to help them negotiate fairly. Your attorney can help you decide if this is the right strategy for you.
Maida Law Firm – Find a Personal Injury Attorney to Help You Get Maximum Compensation
Our team at Maida Law Firm is here to help you seek compensation for your accident case. We are a leading personal injury firm in Houston with a team of seasoned legal professionals. Our team works hard on your behalf to help you receive maximum compensation for your case. We've been helping car accident victims since 1993 and as part of our solution-based legal strategies, we ask for $0 unless we win your case. Get in touch now for a free consultation with our lawyers.