Since our founding in 1993, our Maida Law Firm attorneys – team of personal injury lawyers – in Houston has helped thousands of accident victims build and fight their personal injury cases. Our firm concentrates on personal injury law to provide the focused legal services you need after you're injured in a car accident or another accident. Our goal is to help you get maximum compensation for your damages and injuries. If we don't win your case, you owe us nothing for our services.
Solution-Focused Personal Injury Lawyers in Houston
Our experienced personal injury attorneys at Maida Law Firm provide legal counsel and representation centered on helping you get the most out of your case. We offer years of experience fighting personal injury cases for people just like you.
After an injury, you may face high expenses and uncertainty about the future. Our team is here to help you hold the at-fault party accountable. We can help with everything from gathering evidence and filing an insurance claim on your behalf to presenting your case in civil court. Our attorneys are here to serve you through proficient legal thinking.
Our personal injury lawyers in Houston offer legal representation for a wide range of cases, including: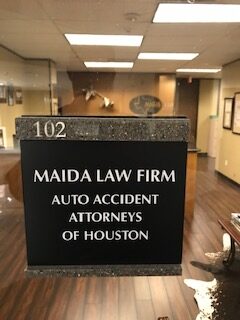 With so much at stake for your case, you need an experienced team of attorneys on your side. The personal injury attorneys at Maida Law Firm offer the knowledge and legal strategizing skills honed by years of practicing personal injury law.
We have helped in over 1,000 cases and are dedicated to helping you recover the maximum value of your case. You don't pay us a cent until we win your case. Discuss your case with one of our seasoned attorneys during a free legal consultation from our team.
Our Personal Injury Attorneys