When drivers take part in grooming activities, they put your life at risk. Grooming while driving is another form of distracted driving that can cause major accidents. Our car accident attorneys are here to help you build your case if you were injured by a distracted driver.
Grooming While Driving Can Lead to Serious Auto Accident Injuries
You're probably seen it before: someone driving down the street while using an electric shaver, applying makeup, combing their hair, or even putting on their tie. While not discussed as frequently as other forms of distracted driving, like
texting while driving
, these driving behaviors put people in danger. Grooming while driving creates many types of distractions. Most grooming activities take at least one hand off the wheel, making drivers less effective at steering and increasing the risk for an auto accident. If the driver is looking in the mirror even part of the time, this creates visual distractions that make them less likely to see potential hazards. These
distracted drivers
also frequently experience cognitive distractions, as they are often thinking more about how they look than the road ahead of them.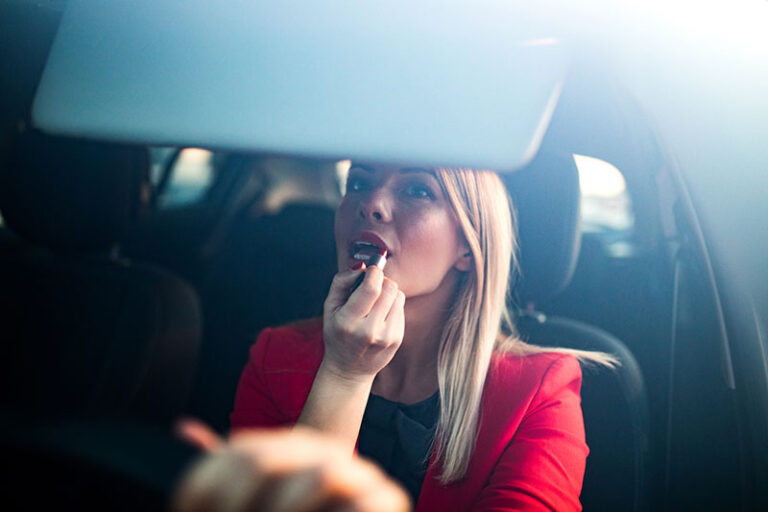 Unfortunately, innocent drivers may pay the price for distracted driving. While there are no statistics breaking down how many people are injured in car accidents by drivers who are shaving, applying their makeup, or even flossing, we do know that distracted driving causes hundreds of thousands of crashes and injuries per year. Yet, many victims of distracted drivers find that seeking compensation is difficult after a car accident.
How our Car Accident Attorneys Help Your Distracted Driving Case
If you were injured in an accident by someone who was grooming while driving, you may be entitled to compensation. Grooming while driving is negligent and dangerous, which means the other driver may be liable for your medical bills, car repair bills, and other related expenses. Our car accident attorneys offer legal counsel for your distracted driving accident case.
Proving liability is an important part of any car accident case. However, showing that the at-fault driver was distracted by grooming can be difficult. Our car accident attorneys investigate your case thoroughly to find evidence of distraction to prove negligence and liability.
Our team also works on your behalf with insurance adjusters so you can focus on healing after your accident. We help you keep track of your accident-related expenses and use our legal expertise to help you put a value on your claim. Then, we negotiate with the insurance companies to help you get the compensation you need after you're injured in a distracted driving crash. If we are unable to reach a fair settlement amount, our lawyers can represent you in a lawsuit to seek compensation from the negligent driver.
Our seasoned professionals at Maida Law Firm concentrate on auto accident cases. We represent victims to help you get fair compensation for your damages and injuries and we don't get paid until you get paid. When you choose our lawyers for your car accident case, we advocate for you and your rights. Contact us today for a free case evaluation with our attorneys.