After a rideshare accident, your auto accident attorneys are here to help you navigate the legal process of getting compensation for your injuries. You might be a victim of a rideshare accident if you were involved in a crash with a rideshare driver or even if you were a passenger of a rideshare driver after hailing a ride. We offer experienced legal counsel for rideshare car accidents. If we can't win your case, you pay us nothing for your claim.
Who is Liable for Ridesharing Accidents?
After a car accident with a rideshare driver, it might be difficult to know who to seek compensation from. You might be able to seek compensation from the rideshare driver, another driver, or even the rideshare company itself. Both Uber and Lyft, two of the most common ridesharing companies, offer accident coverage for their drivers. The coverage from both companies depends on what "stage" the driver is on when the accident occurs. Here are the different stages:
Stage 0: The app is off, and the driver's personal auto insurance policy applies.
Stage 1: The app is on, and the driver is waiting for a ride request. In these cases, both companies offer up to $50,000 coverage for injuries per person, up to $100,000 total for injuries, and up to $25,000 for property damage.
Stage 2: The driver has accepted a ride and is on the way to pick up or drop off the passenger. In this stage, both Uber and Lyft offer up to $1 million in coverage, uninsured and underinsured motorist coverage, and collision coverage for up to the cash value of the car minus a deductible.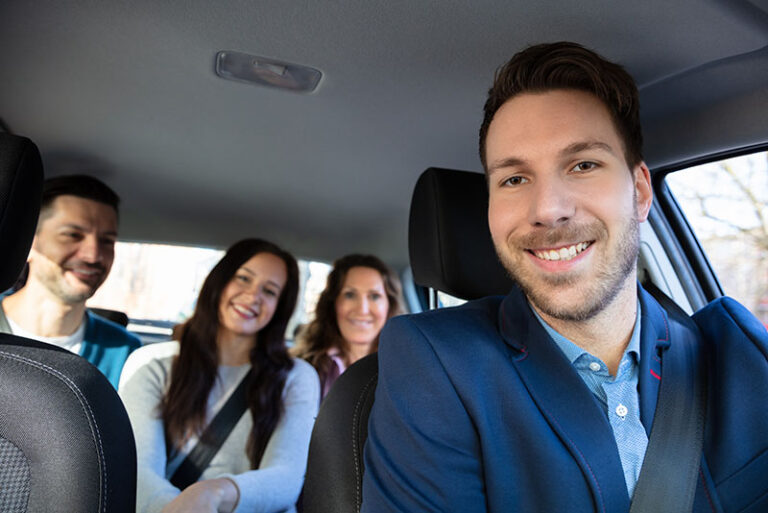 If you were in an accident during a rideshare or with a rideshare driver, you should follow the same steps you would after any other accident. However, you may also need to report the crash to the rideshare company, such as Uber or Lyft.
However, keep in mind that these coverage amounts only apply if the rideshare driver is at fault. If another driver is at-fault, typically you will need to seek compensation through their insurance. Your auto accident attorney can help you determine which driver is liable and how to proceed with your case after a rideshare accident.
How Your Auto Accident Attorneys Help After a Ridesharing Accident
After a rideshare accident, your attorney can help with your case in many ways. Just like other accidents, it's the victim's responsibility to prove fault and also show proof for their accident-related expenses. Our attorneys are here to help you navigate the claims process and negotiate with insurance adjusters to help you get a fair settlement. Going up against a large company can be difficult, and it helps to have a legal team on your side to help.
Your auto accident attorney acts on your behalf to advocate for your rights after an accident and seek fair compensation amounts for your damages and injuries. After a rideshare accident, we can help you determine who is liable for your injuries and how to seek compensation from the at-fault party. We also offer legal representation when talking to insurance companies or seeking compensation through lawsuits.
If you were injured in a rideshare accident, reach out for a free case evaluation with our experienced personal injury lawyers in Houston.