Bus accidents can cause serious damages and injuries for bus passengers and other cars. Our team of experienced auto accident lawyers represent victims of bus accidents to help you seek compensation for your damages and injuries.
Unique Challenges of Bus Accidents
Bus accidents are similar to other car accidents, but there are some important differences. These differences can make your bus accident case more complex. First, buses are typically much larger and heavier than passenger cars, which can increase the risk for more severe injuries or even death after an accident.
Another issue is that many buses are actually owned by government agencies, such as independent school districts or local governments. This can make filing a claim or lawsuit more difficult than filing a claim against private entities. Often, there are shorter timelines for filing a claim and there may also be other restrictions. So, whether you're in an accident with a school bus or a city bus, it's important to keep this in mind. Your auto accident lawyer can help you determine what types of laws apply after a bus accident.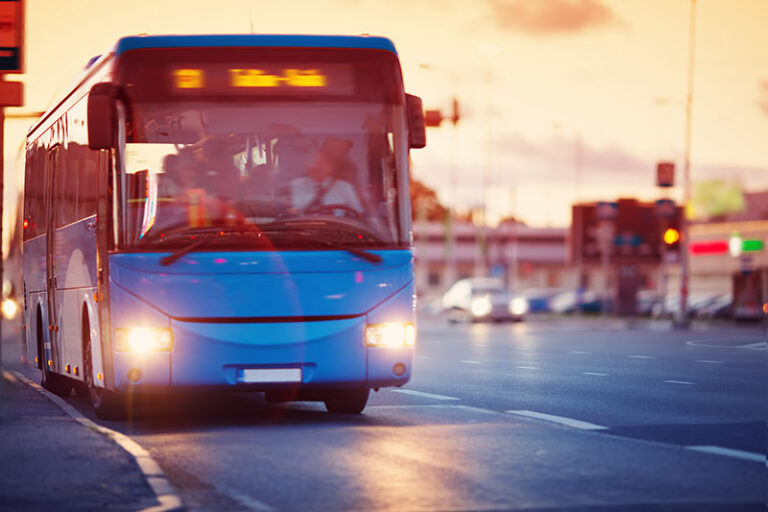 In addition, bus accident cases may involve several different negligent
parties. For instance, both the driver and the bus owner may be at fault
for the accident. You may also be able to seek compensation from the
maintenance company if poor bus maintenance is at fault for your accident.
Your auto accident lawyer helps you build a case and understand the unique circumstances of your bus accident. We offer legal guidance and representation to help you seek compensation if you were a victim of a bus accident.
Auto Accident Lawyers for Bus Accidents
In any auto accident, proving fault is important. Your auto accident attorney is here to help you investigate and prove fault after a bus accident.
Generally, most bus drivers, whether private or public buses, are what we call common carriers. Common carriers frequently have a higher duty of care in the eyes of the law, which means they must take extra care to prevent accidents compared to your average driver. Your auto accident lawyer can help you investigate and gather evidence of negligence against the bus driver to build your claim for compensation.
Your bus accident attorney also represents you with insurance companies and in court to fight for your right to compensation. Our experienced attorneys negotiate with insurance adjusters and advocate for you to help you win your case. If we can't reach a fair settlement amount, our team also represents you during a lawsuit against the bus driver, bus company, or other negligent party to help you receive the compensation you need for your injuries.
Our attorneys at Maida Law Firm offer solution-focused legal counsel and representation for victims of auto accidents. If you were injured in a bus accident, we help you build your case and advocate for your rights. If we don't win your case, we ask for nothing in return. Contact us now for a free bus accident consultation with our legal professionals.