If you were injured in a commercial truck accident, you may face serious damages and injuries. Semi-trucks are much larger and heavier than passenger cars, which makes truck accidents incredibly dangerous. After a truck accident, it can be difficult to know where to start as you seek compensation for your injuries. Your truck accident lawyer is here to help you determine who may be liable and fight for your right to compensation. Each case is different, but we have some general information on who may have liability for your truck accident case.
What is a Truck Accident Lawyer?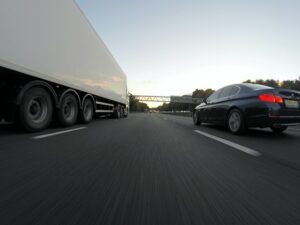 A truck accident lawyer is a personal injury lawyer who offers legal representation for victims of truck accidents. Hiring an attorney after a truck accident can help with many aspects of your case, as they help you build and fight your case, either with the insurance company or in court. 
Truck accident lawyers can help you:
Investigate your accident

Gather evidence of negligence

File legal paperwork

Value your case

Create and send demand letters to liable parties

Negotiate settlements

Represent you in court for lawsuits
Talk to Your Truck Accident Lawyer About Who May Be Liable for Your Case
There are many different causes of truck accidents. The "Large Truck Crash Causation Study" from the Federal Motor Carrier Safety Administration (FMCSA) shows the top ten factors that influenced truck accidents in their study were:
Brake problems

Traffic jams

Prescription drug use

Driving too fast

Unfamiliarity with the road

Road problems

Failure to stop before a crash

Over the counter drug use

Inadequate surveillance from the driver

Fatigue
As you can see, there are many potential causes of a truck accident. This also means there may be many different liable parties involved with your case. Your truck accident lawyer is here to help you determine who shares fault for the truck accident and who you can seek compensation from for your damages and injuries.
Making a Claim Against the Driver's Insurance
Perhaps one of the most obvious liable parties is the truck driver. Many truck accidents are due to the driver's negligence. For instance, if they were speeding or were driving while distracted. Therefore, you may be able to seek compensation from the driver involved in the accident. 
It's important to understand that many truck drivers are actually independent contractors. They own their vehicles and can rent space in the trailer to different companies needing items transported. If this is the case for the at-fault driver in your truck accident, they should carry the necessary insurance. Your truck accident lawyer can help you file the necessary paperwork and negotiate with their insurance company to get the compensation you need after an accident. 
However, it's also important to note that many trucking companies misclassify their drivers as independent contractors to avoid liability in 18-wheeler accident cases. Therefore, even if the driver says they are an independent contractor, it's helpful to ask who actually owns the truck. Your auto accident lawyer can also help you determine if the driver is actually legally an employee of the trucking company, who may share fault for your case. 
Your Truck Accident Lawyer Can Help You File Claims Against the Trucking Company
Many people don't realize that the trucking company may also be liable for your injuries after a truck accident. Many trucking companies own and operate a fleet of commercial trucks and offer their services to transport many different products across the country. Because they employ truck drivers to fulfill those services, victims of truck accidents with their drivers can often seek compensation from their insurance to pay for their damages and injuries. 
Trucking companies can be either directly or indirectly responsible for your accident. Some examples of direct responsibility from a trucking company include not maintaining their vehicles, forcing drivers to break laws around driving hours, or even placing unqualified drivers behind the wheels of their trucks. However, even if the company doesn't do any of these things, they can be indirectly liable if the truck accident happened while their employee was performing the duties of their job. Whatever the case, they typically have higher insurance coverage to help with your accident-related expenses and damages.
Discuss Truck Manufacturer Liability with Your Auto Accident Lawyer
Sometimes the manufacturer of the truck may be liable for your accident. For these cases, generally your truck accident lawyer must show that there was a defect in the design or manufacture of the truck. For example, if a design flaw makes brakes more likely to fail and a brake failure due to this defect contributed to your accident, you may be able to file a claim or lawsuit against the manufacturer. 
Cargo Loaders May Have Liability in Your Accident
Often, trucking companies and independent truck drivers hire a separate cargo loading company to fill semi-truck trailers with the items for transport. The cargo company may also share liability for your case. Loading big rig trailers requires precise calculations. Overloading trailers or not securing the cargo properly can easily lead to an accident. In fact, these conditions can increase the risk of the truck driver losing control of the vehicle, which can have devastating effects for others on the road. If you think the cargo company may have played a role in what led up to your truck accident, your lawyer can help you investigate. 
Your Truck Accident Lawyer Can Help You Seek Compensation from the Truck Maintenance Company
Another party who might share fault for your car accident is the maintenance company. Truck companies often contract maintenance and repairs out to third-parties, rather than hiring their own in-house mechanics. These companies are responsible for performing the maintenance and repairs needed to keep trucks safe and in good condition. Cut corners and unqualified service can easily lead to accidents. Therefore, your truck accident lawyer may recommend filing a personal injury suit against the maintenance company as well for your case. 
Types of Damages from Truck Accidents
After a truck accident, you can seek compensation for many types of damages, both economic and non-economic. In some cases, you may even be awarded punitive damages, which are solely meant to punish the defendant and help deter similar behavior in future. 
Some damages you may be awarded for your case include:
Current medical expenses

Future medical expenses

Lost wages

Lost earning capacity

Pain and suffering

Mental anguish

Punitive damages
Your lawyer can help you determine which damages apply for your case and help you seek compensation for them. 
Choosing Maida Law Firm as Your Houston Car Accident Lawyer
When you need an experienced Houston car accident lawyer, our attorneys at Maida Law Firm are here to help. We offer experienced legal representation for car and truck accident cases in the Greater Houston area. Our firm is here to help you recover maximum compensation if you're an accident victim, and if you don't get paid, we don't get paid. Contact us now for a free consultation with our team.