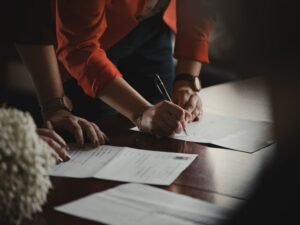 If you were injured in a car accident, there are many steps you can take to help build your case against the at-fault driver. You can work with your Houston car accident attorney to determine what type of evidence you need for your claim. One important piece of evidence is the crash report. In this article, we'll explain why the police accident report is important for your case, how to obtain it, and some other helpful tips. 
How the Accident Report Helps your Car Accident Attorney
The crash report is an important part of any car accident case. It can serve as evidence for your insurance claim or car accident lawsuit. Also, it helps your car accident attorney investigate your case. 
Crash reports typically have a lot of different information, such as:
Date of accident

Location of accident

Road, weather, and visibility conditions

Names and contact information of drivers/parties involved

Records of damages and injuries

Statements from drivers, passengers, and witnesses

Officer's opinions on how and why the accident happened
All this information can be invaluable to your accident lawyer when building your case. It also helps provide evidence for your claim, including the other driver's fault and the damages and injuries you received from the accident. Police reports about accidents also often hold a lot of weight with insurance companies and during lawsuits. 
How to Obtain a Crash Report in Houston
In many cases, your car accident attorney can get the crash report for you. However, sometimes you may want or need to get this information on your own. There are several ways to get a copy of your crash report from the Houston Police Department. They are usually processed in six to eight days and then you can request a copy.
Regular copies typically cost $6 while certified copies (needed for official proceedings like insurance claims and lawsuits) typically cost $8. You can request a copy of the report online, by mail, or in person. Keep in mind that crash report copies obtained online or by mail are not full reports and usually have some details redacted, like contact information for the drivers involved. For a full report, you will need to visit the HPD Records Division in the Edward A. Thomas Building in Downtown on Travis Street. 
Still Gather Your Own Evidence at the Car Accident Scene
One thing you might be wondering is whether you still need to collect evidence if a police officer is going to file a report for your crash. If it's safe to do so, then yes! A police report is typically not all the evidence you need to prove the other driver's negligence and your own damages. Therefore, we still recommend taking pictures, getting witness information, and documenting your own statement as soon after the accident as possible. Additional evidence can help your personal injury lawyer build a strong case for your claim and help you get maximum compensation. 
In addition, you will still need to gather evidence of your damages, such as medical expenses. Therefore, you'll need to keep track of all your accident-related expenses. This provides proof behind the value of your claim. 
Hire a Top Accident Lawyer at Maida Law Firm
After a car accident, call our team at Maida Law Firm. We have a team of seasoned attorneys to help you get the compensation you need after an accident. Our lawyers will fight to get you the highest settlement or lawsuit award possible from the at fault driver. If we can't help you recover damages for your case, then you owe us $0 in return. Contact us now to set up a free consultation with our car accident attorneys.