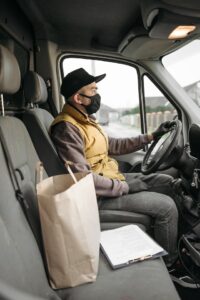 After a car accident, it helps to have an accident attorney on your side to as you seek compensation. Your lawyer can go over all the different legal options you have to get the compensation you need and can also fight for you in and out of court. One unique situation you might find yourself in is if you're in a car accident while you're on the clock for your job. In this article, we'll discuss why to hire an accident attorney for your case and the two main avenues for compensation for work-related car accidents.
Talk to Your Accident Attorney if You Were Injured in a Work-Related Car Accident
There are many reasons you might get into a work-related car crash. For instance, if you drive for a living, there's a major risk that you could get into an accident during your work hours. However, there are also some other times where you might be in a work-related car accident, such as:
Traveling for a work trip

Running errands for your employer

Making deliveries for your employer

Driving from one work site to another

Transporting customers, such as bus or shuttle drivers

Transporting other employees for business-related travels
Keep in mind that your regular commute or driving during your breaks don't generally count as work-related. Your Houston car accident attorney can help you determine whether you were in a work-related car accident and how to seek compensation. There are two basic ways to get compensation for a work-related car accident: workers' compensation claims and third-party auto insurance claims.
You May Be Able to File a Workers' Compensation Claim
If you were on the clock during your car accident, then you can typically seek compensation through a workers' compensation claim. Workers' compensation is designed to kick in any time you're injured at work, regardless of fault, with few exceptions. So, if you were driving for work, workers' comp will typically cover your expenses, even if you caused the accident. Exceptions include if you were driving under the influence of drugs or alcohol or if you intentionally crashed the car.
However, keep in mind that workers' compensation only covers medical expenses and 70% of lost wages. It does not cover property damage (like to your vehicle), mental anguish, or pain and suffering. Your accident attorney can help you file a claim and negotiate with the adjuster for a fair settlement amount.
You and Your Houston Car Accident Lawyer Can File a Claim Against the At-Fault Driver
If you weren't at-fault for the accident, then you can typically file a third-party insurance claim against the at-fault driver's auto insurance policy. There are some benefits to this, even if you've already filed a workers' compensation claim. Auto insurance claims are designed to "make you whole" after a driver's negligence caused the accident. So, it can provide compensation for the things that your workers' compensation doesn't cover, like the other 30% of your lost wages, your property damage, as well as mental and physical pain and suffering.
Your personal injury attorney can help you file a claim and fight against the insurance company for fair compensation after an accident. Unlike with the workers' compensation claim, auto insurance claims do require your accident attorney to prove the other driver was at fault. Your lawyer can gather evidence and represent you for your claim to get you the compensation you deserve.
Get a Trusted Personal Injury Attorney from Maida Law Firm
When you need a Houston car accident lawyer, choose Maida Law Firm. Our team of seasoned legal professionals offer services focused on getting you results for your case. We have helped countless accident victims get the compensation they need to recover. Trust our decades of experience for your case. Schedule a free case evaluation with our lawyers today.