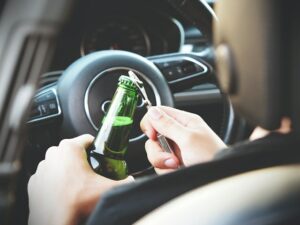 We all know the dangers of drunk driving. Yet, people still do it every day. These cases can be complicated and difficult to fight, which is why you may need an accident attorney on your side. There are several things to know if you were injured by a drunk driver, which we'll go over in this article. 
If you were injured in a car accident, get in touch with our team now to discuss your legal options. 
Talk to Your Accident Attorney if You Were Injured by a Drunk Driver
Drunk driving involves driving while your blood alcohol content is 0.08% or higher. However, people can still be too impaired to drive before they reach this point. Drinking and driving can affect judgment, reaction time, and vision. As such, it's a huge risk for an accident. Often, these accidents are devastating because the driver may not take any evasive maneuvers before the crash. 
If you were injured in an accident with a drunk driver, there are several things to do for your case. Taking certain steps can help you and your accident attorney fight for fair compensation for your damages and injuries. For instance, any time you suspect the other driver is drunk, call the police. They can come to the scene to investigate and may perform a field sobriety test, breathalyzer test, or even a blood test to look for signs of alcohol use. They may even file criminal charges. These both can serve as evidence for your case. 
Once you receive medical attention for your injuries, the next step is to contact your Houston car accident attorney. Your attorney helps your case in many ways and can work on your behalf for your case. This includes contacting the insurance companies for you while you recover. 
How Your Houston Car Accident Attorney Helps Your Case
Your accident attorney is a great resource when fighting for compensation from a drunk driver. There are many key elements of a strong case for any car accident, including drunk driving crashes. For instance, proving that the driver is at fault. This may seem like a no-brainer, but just because a driver is drunk doesn't necessarily mean they hold fault for the accident. Imagine if you rear ended a drunk driver while they were stopped at a stop sign: just because they're drunk doesn't mean that they actually caused the accident. Your accident attorney investigates and gets evidence to prove fault. They will also work against any claims that you share fault for the accident, which can reduce your total compensation under contributory negligence laws in Texas. 
Your lawyer also helps you determine the different options you have for your case. Often, you'll start with an insurance claim. However, their insurance may deny the claim because the driver was drunk. Many auto insurance policies deny coverage for drunk driving accidents. They often consider drunk driving a form of intentional act, which insurance companies don't cover. Also common in these cases are damages that exceed policy limits, meaning you'll have to look for compensation elsewhere, like from the driver themselves or even from the place that overserved them alcohol under Dram Shop Laws. This involves filing lawsuits to get the compensation you need, which your attorney assists with. 
Maida Law Firm – Here to Get You Maximum Compensation
When you need a team that defends your rights as a victim of a car accident, contact our team at Maida Law Firm. We offer decades of experience with auto accident claims of all types. So, whether you need a car accident attorney for a drunk driving case or need a truck accident lawyer for a crash with an 18-wheeler, our team is here for you. Our team is dedicated to getting you maximum compensation and you don't pay us a dime until we win your case. Contact us now to schedule a free legal consultation with our attorneys.