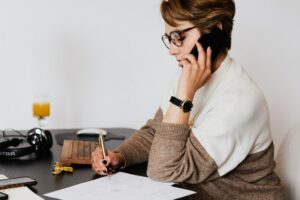 If you've been in a car accident, you may be feeling overwhelmed and uncertain of what to do next. One of the most important things you can do is to talk to a qualified car accident attorney who can help you understand your rights and options. The insurance adjuster may try to contact you soon after the accident, but it's important that you consult with an attorney first so that you know how to protect yourself.
Maida Law Firm has helped hundreds of car accident victims in Houston, Texas, and we're here to help you too. Contact us today for a free consultation.
Why Talk to a Car Accident Attorney Before the Insurance Adjuster
If you've been in a car accident, the last thing you may want to worry about is talking to an attorney. But it's vital to have an experienced car accident attorney on your side who can provide informed guidance when speaking with insurance adjusters. An attorney understands the car accident process and will know exactly what information to provide. They also know how to protect yourself from being taken advantage of by the insurance company. An attorney can also help with filing a legal claim should that be necessary. Remember, the insurance adjuster is only looking out for their best interests, not yours. Protect yourself and be sure to talk to a car accident attorney before the insurance adjuster calls.
The Adjuster May Try to Lowball Your Claim
Following an auto accident, you may be required to interact with an insurance adjuster in order to receive your claim. Unfortunately, it can be difficult to receive the compensation that you deserve since adjusters often try to lowball you. In fact, some adjusters even attempt to delay or reject your claim altogether. If you feel like you are not being treated fairly or offered an appropriate amount for your car accident claim, it is important contact a qualified auto accident lawyer for assistance in obtaining fair compensation. They can guide you through the process and communicate with the adjuster on your behalf.
What Does a Car Accident Attorney Do for Your Case?
Being in a car accident can be a traumatic experience that can leave you feeling overwhelmed and scared. But having an experienced car accident attorney by your side can make all the difference. They can provide objective advice, assist with filing appropriate legal documents, represent you in court if necessary, and help you fight for fair compensation. Your car accident attorney will have a deep understanding of the laws surrounding car accidents. They can leverage these to your benefit while calmly guiding you through the process. An experienced car accident attorney will ensure that your voice is heard and that your rights are protected throughout the entire process.
Hire the Right Auto Accident Lawyer for Your Case
When you make the personal decision to hire a personal injury lawyer, you may be feeling overwhelmed. The legal system can be intimidating, but you don't have to face it alone. Finding the right car accident attorney for your case is essential; this person should possess the qualifications and experience necessary to get a just legal outcome. Do research on car accident attorneys in your area and interview a few before making your choice. Ask friends and family for referrals to reputable personal injury lawyers they have worked with in the past. Make sure you are comfortable with their personality and fee structure, as well as the services that they offer. Hiring the right attorney will make all the difference in achieving the best result for your case.
Maida Law – Top Personal Injury Lawyer for Car Accidents in Houston, Texas
Now that you know more about how insurance adjusters work and what they may try to do, you can be better prepared to protect your rights and interests after a car accident. If you were injured in a car accident, it is important that you seek legal help as soon as possible. Let an experienced attorney can fight for the compensation you deserve.
Maida Law Firm has significant experience handling all types of car accident cases, and we are ready to put our knowledge and resources to work for you. Contact us now for a free case evaluation. We will review the facts of your case and explain your best options moving forward— with no obligation on your part.