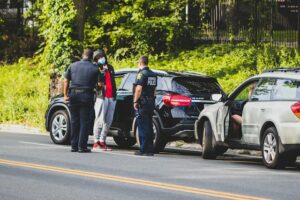 After an accident, there are many things you can do at the scene to help with your case. Evidence you gather can help your Houston car accident lawyer build a case for your claim for compensation after you're injured by a negligent driver. One key type of evidence is witness testimony, which can be incredibly useful for your case. Let's talk about witnesses and why they're important for your car accident claim.
Tell Your Houston Car Accident Lawyer About Any Accident Witnesses
After an accident, generally all drivers will claim that they're not responsible for the accident. It can quickly become a he said/she said issue. That's why other witnesses can be so helpful for your case. Common car accident witnesses include:
Other drivers

Car passengers

Pedestrians

People in nearby buildings
These witnesses in a car accident can provide valuable testimony to use as evidence for your car crash case. If you're able, try to get their information as soon as possible after the accident, as witnesses are often impossible to find after you leave the accident scene. 
Information to Get from Witnesses at the Car Crash Scene
Witnesses are often hard to track down after a car accident. So, we recommend getting as much information as possible from helpful witnesses. Here are some things to ask for:
Home address

Work address

Home/cell phone number

Work phone number

Phone number for a spouse/close relative
Additionally, you might ask them if they're willing to let you record their statement of what happened on your cell phone. This allows them to recount what happened soon after the accident while the memory is still fresh. 
Once police arrive at the scene, it's also helpful to point them to any witnesses that might have useful information for their investigation. This also often means their information is included in the police report, which may also help your Houston car accident lawyer fight your case.
After the accident, share the witness information with your Houston car accident attorney. They can reach out to determine if their testimony will be useful to use for your car accident insurance claim or lawsuit. Your attorney may also vet car accident witnesses for any credibility issues that might make them a poor source for evidence. For instance, a history of lying, not seeing the entire crash, or having poor eyesight that might make them an unreliable witness of your accident.
Your Houston Car Accident Attorney May Bring in Expert Witnesses for Your Case
In addition, your Houston car accident lawyer may recommend using expert witnesses for your case. These are people who didn't necessarily see your accident in person, but have expert knowledge that may be helpful for your case. Common examples include medical professionals, accident reconstruction professionals, highway safety experts, and economists. They often provide testimony of the most likely causes or effects of an accident. 
For example, a medical expert may weigh in on how likely it is that your injuries will cause lasting issues for your quality of life, while an economist might explain how the car accident will impact your long-term finances. Accident reconstruction professionals might explain the most likely cause of the accident and the events leading up to it to help provide evidence for the other driver's negligence. These witnesses can also be valuable for your case even if they didn't see it in person.
Get Help from a Top Houston Personal Injury Lawyer from Maida Law Firm
If you were injured in a car accident, contact our team at Maida Law Firm for help. We help victims of car accidents seek compensation from insurance companies and negligent parties for their damages and injuries. When you work with a Houston personal injury lawyer from Maida Law Firm, you know you have a team of experienced professionals working to get you maximum compensation. If we can't help you recover damages for your case then you owe us nothing in return. Contact us now for a free consultation with our lawyers!