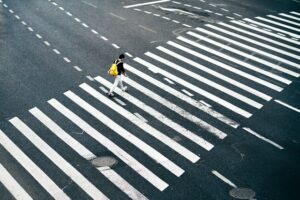 Unfortunately, car accidents happen every day. While you might think you're most at risk when driving, many pedestrians become victims of car accidents. Pedestrian car accidents can leave people severely injured. This makes it more difficult to recover after an accident and can also make the claims process more difficult. Therefore, in many cases you may need a Houston car accident lawyer to help you get maximum compensation for your case. 
Pedestrian car accidents can happen in many different areas. Some common places for these serious accidents include intersections, crosswalks, and parking lots. In 2020 alone, 6,516 pedestrians lost their lives in car accidents. While we all like to believe it would never happen to us, it absolutely can happen. The good news is that there are avenues for you to get compensation for your injuries. 
Should I Call a Houston Car Accident Lawyer If I Was Injured as a Pedestrian?
If you're injured by a car as a pedestrian, there is a high chance you face pretty serious injuries. The average car weighs a little over two tons, which is over 4,000 pounds. Depending on how fast the car was going, that's an incredible amount of weight and force involved. Pedestrian injuries after a car crash can include traumatic brain injuries, broken bones, internal bleeding, spinal damage, and many other severe, possibly life-altering injuries. 
Most people go through the at fault driver's auto insurance policy to get compensation for their accident-related injuries, such as medical expenses, lost wages, property damage, and pain and suffering. However, insurance companies want to pay you as little as possible to keep profits high. This can lead to insurance adjusters deliberately undervaluing your claim and making negotiations difficult. Having a Houston car accident attorney on your side can help you fight to get the compensation you need.
What to Do After a Car Hits You as a Pedestrian
It's common to wonder exactly what to do after a car accident as a pedestrian. After all, it's likely not something that happens to you every day. There are several things you should do after a car accident. Most of these are the same whether you're in a car or walking as a pedestrian. Here are some steps to take:
Get Medical Attention
As always, the first thing to do is make sure there are no severe injuries. If either you or another person involved has severe injuries, you should dial 911 immediately to get emergency medical professionals on site as soon as possible. Follow any instructions the 911 operator gives you. Not sure whether you need an ambulance? A good rule of thumb is to call for an ambulance any time an injury threatens life or limb. 
If there are no severe injuries, you should still get medical attention yourself in the aftermath of the accident. Adrenaline may be coursing through your body after an accident and you might not feel much or any pain even for injuries. Getting checked out by a doctor can help you get peace of mind that you're uninjured after an accident. If they do detect an injury, then going as quickly as possible after a car accident can help you get treatment early, hopefully to help you feel better as soon as possible. 
Seeking medical attention is also helpful for your case. Typically your Houston car accident lawyer recommends visiting a doctor to make sure there are no hidden injuries. You should also follow up if you start noticing any symptoms that might be tied to your accident. Unfortunately, many insurance adjusters try to argue a person isn't really injured if they wait to get medical care in the days, weeks, or months after the accident. Therefore, delaying could cost you in the long-run for your case.
Call the Police
Any time someone is injured or killed in a car accident, you must call the Houston police department (or the police department for that area if you're not in Houston proper). You must also inform police any time a car accident causes more than $1,000 of property damage. Therefore, it's highly likely you must report the accident if you were involved in a pedestrian car accident. 
In addition, having a police report can be helpful for your case. The police can investigate on site and will typically put in their report who they believed to be responsible as well as other details that may be helpful for your car accident lawyer as they build a case for your claim. For instance, reports might note your injuries or the other driver's negligence. This can go a long way in providing evidence for your case.
Gather Evidence to Help Your Houston Car Accident Lawyer with Your Claim
When you file a claim against another driver's insurance or when you file a lawsuit against the at fault driver, then it's important to have evidence. Generally it's your responsibility as the victim to provide evidence of the other driver's fault in the case. So, if you're able to, try to gather as much evidence as possible of the accident.
Take plenty of pictures, write down a statement of what happened while it's fresh in your mind, and do anything else you can to get evidence of what happened. If the driver makes any statements of fault, like saying "I'm sorry, I didn't see you," or "I looked away for just a second," make note of these, too. They can be helpful as evidence. You can share all the information you gather with your Houston car accident lawyer to help you determine what is and isn't useful for your case. Your lawyer can then use this information to negotiate with insurance adjusters or fight for you in court if need be.
Get the Driver's Information
You also need to get the driver's information after an accident. This helps you get in touch with them, or, more specifically, their insurance company after the crash. Make sure you get name, phone number, other contact details, insurance policy numbers, driver's license number, license plate numbers, and any other information you may need for your claim.
Get Contact Information for Witnesses in Case Your Car Accident Lawyer Needs to Contact them Later
If others were around to see the accident, then it may also be helpful to get their contact information as well. Getting names, phone numbers, or even some recorded statements if they don't mind can all be helpful for your case. Your Houston car accident lawyer can use this information to follow up and get more evidence for your case. 
Call Your Houston Car Accident Lawyer
After the accident, consider calling your Houston car accident lawyer for help. The sooner you involve your lawyer, the better, as they can help you with many parts of your case, from keeping detailed documentation of your accident-related expenses to investigating the crash and helping you file the necessary paperwork. Your attorney works on your behalf to help you get the best settlement possible to help cover your expenses and can be an invaluable resource throughout the process.
Maida Law Firm – Your Personal Injury Lawyer in Houston
When you need an experienced personal injury lawyer, choose our team at Maida Law Firm. Our solution-focused legal team is here to help you after an accident. Whether you were a pedestrian or another driver, we represent victims of car accidents to help them get maximum compensation for their damages and injuries. Our team fights on your behalf to win your case. If we don't help you recover compensation, then you owe us absolutely nothing. Let's talk about your case today. Contact us now to set up a free legal consultation.