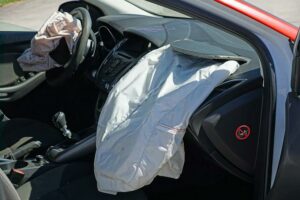 Texas is one of the worst states for uninsured drivers. Some estimate that 1 in 5 drivers in Texas don't have auto insurance. In the event of a car accident, this could put you at risk of paying for accident-related expenses out of pocket. If you were a victim of an uninsured driver accident, it's important to take steps to protect your rights. There are several ways you and your Houston car accident attorney can seek compensation for your accident related expenses, including medical bills, lost wages, and property damage. Let's talk about some important information you should know about uninsured driver accidents.
Talk to Your Houston Car Accident Attorney if You Were in an Accident with an Uninsured Driver
Many people mistakenly believe that there's nothing they can do after an accident with an uninsured driver. They may think they simply need to bite the bullet and pay for the other driver's mistakes. However, it's important for you to know that there are options available. If you were in an accident and the at-fault driver didn't have insurance, talk to your Houston car accident attorney about your options. Your lawyer can help you understand different paths you can take to get compensation and also help you through the process, whatever you decide to do. Getting your attorney involved early can also help you make a solid plan and build a strong case for when you do seek compensation. 
Steps to Take After a Crash with an Uninsured Driver
Like any accident, there are things you can do immediately afterward to help your case. As normal, you should always check for serious injuries and call for emergency medical help for any injury that threatens life or limb. Taking pictures, talking to witnesses, and gathering evidence at the accident scene can also be helpful. In addition, take these four key steps to help with your case if you're injured by an uninsured driver:
Call the Police
You should call the police for most car accidents. Texas law requires you to call the police any time a car accident causes injury, death, or property damage that totals over $1,000. You should also call the police any time the other driver is driving illegally, including if they don't have insurance. If the other driver refuses to show you their insurance information or admits to not having insurance, typically you will need a police report for your case. The police can check whether the driver has insurance and note if the driver is uninsured in the police report. They may also give the driver a ticket and pursue criminal charges against them for breaking the law. These charges may also be helpful as evidence for your case. 
Call Your Houston Car Accident Attorney
Once you finish up with the police, exchange information with the other driver, and get a medical evaluation, consider calling your car accident lawyer. Getting your lawyer involved early can help you benefit from legal advice as soon as possible. They help you know what kinds of evidence you will need and other valuable information for your case. Your attorney can help you go over different options for seeking compensation and determine how to proceed from there based on the facts. They can also help you start building a strong case for when you decide to seek compensation. 
Tell Your Insurance Company
It's also important to make a call to your own insurance company. There are several reasons for this. The first is that most insurance companies require you to let them know you've been in an accident even if you're not at fault. Also, in many cases your insurance policy will include coverage that can help you after an accident with an uninsured driver. For instance, in many cases you will have uninsured motorist insurance unless you specifically opted out. You might also have personal injury protection (PIP) coverage to help cover some of your medical expenses after an accident, no matter who is at fault. You can ask your agent about your options to see what may apply.
Now, some people choose to call their insurance company before contacting their Houston car accident attorney. This is ultimately up to you. However, keep in mind that insurance companies are out for profit, even the one that covers you. If you decide to make a claim against your own insurance, an adjuster will still likely try to pay you as little as possible. Because of this, many people prefer to discuss their case with their attorney beforehand to understand what may help or hurt your case. 
Make a Plan
Once you've contacted all the necessary people for your case (the police, your insurance company, and your Houston car accident attorney), the next step is to start planning for your case. You can work with your lawyer to figure out a way forward. They'll also help you determine what kinds of records and documents to collect. Your strategy for getting compensation can affect what you do throughout the process from the accident to getting compensation. 
How Your Houston Car Accident Attorney Helps After an Accident with an Uninsured Driver
Your Houston car accident attorney can help you determine how to seek compensation after an accident with an uninsured driver. There are often many options to choose from. Two popular options is using your own insurance and suing the at-fault driver.
Filing Claims with Your Insurance
After an accident with an uninsured driver, there may be several ways to seek compensation through your own auto insurance policy. This largely depends on the details of the accident and the type of coverage you have. For example, you may be able to file a claim with your uninsured motorist coverage. 
If you choose this option, it helps to have a Houston car accident attorney on your side. They can help you understand the process, file necessary paperwork, and get the evidence you need for your case. You will likely have an insurance adjuster assigned to your case. It may be helpful to have your attorney negotiate with them to help you get the compensation you need after an accident with an uninsured motorist. 
Suing the At-Fault Driver
Another option is to sue the at-fault driver to cover your accident related expenses. Once again, having a lawyer can help with this process. The first step is to determine whether this is worth the effort. Many uninsured drivers lack the assets needed to pay for your expenses. This means that even if you win the case, they may have nothing to compensate you with. If this option does work well for you, then your lawyer helps you file the lawsuit and prepare for court so you can seek maximum compensation for your accident.
Maida Law Firm – Your Car Accident Lawyer
After a car accident, hire our team at Maida Law Firm. We offer experienced legal services for victims of car accidents of all kinds. Whether you need a truck accident lawyer after a crash with an 18-wheeler or need a lawyer to help you get compensation from an uninsured driver, our attorneys are here to help. If we can't help you recover damages, you owe us nothing for our services. Get in touch now for a free case evaluation with our lawyers!