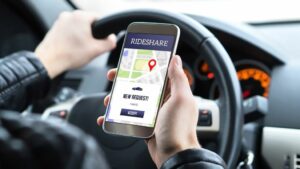 Ridesharing services such as Uber are popular across Houston, but getting into an accident with an Uber driver can be a confusing and difficult experience. Who is liable, the Uber driver or Uber itself? A Houston car accident attorney can help pursue the right claim for you.
As the number of rideshare drivers on the road increases, so do your chances of being involved in a collision caused by one. That's why it is important to know what steps you should take if you find yourself in this situation to ensure that you receive fair treatment following the incident.
If you have been in a car accident caused by an Uber driver, for a free case evaluation. We will examine the details to determine how much compensation you are entitled to.
Uber Tries to Reduce its Legal Liability
Ridesharing companies like Uber have taken the world by storm, promising cheap and convenient travel options. Many people sign up as Uber drivers because it seems like an easy way to make money. The company classifies these drivers as independent contractors, which limits their liability and leaves a lot of room for legal complications.
If you're involved in an accident with an Uber driver, it's crucial to seek out the expertise of an experienced Houston car accident attorney. They know the ins and outs of how these big companies operate and can fight for you as an individual to ensure you receive the compensation you deserve. After all, your safety on the road is just as important as convenience.
Three Scenarios – Insurance Coverage for Uber Drivers
When an accident is caused by an Uber driver, questions immediately arise about who is responsible for covering the costs. For Uber drivers, the answer depends on the circumstances surrounding the accident. There are three scenarios here:
If the driver is driving their car for personal use, and are not active on their Uber app as an available driver for passengers, their personal insurance policy will apply.

If they are active on the Uber app and are available for a fare, but currently do not have a passenger in their vehicle, they must still use their own insurance, but Uber adds in some contingency insurance: $50,000 per person ($100,000 per accident) in liability coverage, plus $25,000 in property coverage.

If the driver is transporting a passenger at the time of the accident, their policy with Uber will kick in and provide full coverage. Uber's policy provides for $1,000,000 in liability and $1,000,000 in property coverage.
Who Qualifies for Damages After an Accident with an Uber Driver
If you find yourself involved in a collision with an Uber, there is a good chance you may be eligible to receive damages. This includes scenarios like being a passenger in a vehicle that an Uber driver hit, or even being a pedestrian, bicyclist, scooter rider, or motorcyclist that was struck by a rideshare driver. Of course, this also includes situations where you were driving your own vehicle and the Uber driver caused the accident.
While the aftermath of an accident can be overwhelming and stressful, it's important to remember that you have legal options available to you. Don't hesitate to seek experienced legal representation from a car accident attorney in Houston to ensure that your rights are protected.
Record Important Info Your Houston Accident Attorney Needs
Getting in a car accident is never something we plan for, but unfortunately, it can happen to anyone at any time. If you're involved in an accident with an Uber driver, it's important to stay calm and take immediate action.
First and foremost, make sure you and anyone else involved in the accident are safe and then start recording important information.
Be sure to get the Uber driver's name, license plate number, and insurance information.

You should also gather insurance information from any other person or vehicle involved in the accident, as well as the names and contact information of any witnesses.

Don't forget to take photos of all the vehicles involved, any traffic signals or signs, skid marks, accident debris, and your injuries.

Lastly, if possible, check the driver's status on the app at the time of the accident.
Remember, keeping all of this information handy will be extremely beneficial if you need to file an insurance claim or take any legal action.
A Houston Car Accident Attorney Can Take on Big Companies Like Uber
Getting the help of a Houston car accident attorney is the best way to ensure your rights are protected and that you get the maximum compensation for damages. Maida Law Firm understands the complexities of car and truck accident cases, as well as filing insurance claims and lawsuits. We take pride in aggressively pursuing the compensation our clients deserve when they've been involved in an accident that wasn't their fault.
Don't let big companies like Uber take advantage of you. Let us go to bat for you so you can get the justice and compensation you deserve. So if you've been injured in an accident with an Uber driver, contact us today for a free case evaluation.