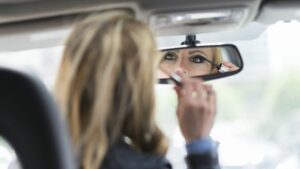 Have you ever encountered another motorist who was using their time behind the wheel to apply makeup, brush their hair, or maybe even check themselves out in the mirror instead of paying attention to what was going on around them? Unfortunately, this dangerous behavior can lead to catastrophic car accidents. As an experienced car accident lawyer in Houston, we can provide sound advice about what to do following a collision with someone who was putting on makeup while driving.
Contact us for a free case consultation today and find out how we can help you get the compensation you deserve. 
Putting on Makeup Qualifies as Distracted Driving
Every day, we encounter countless distracted drivers while on the road. Text messages, phone calls, eating, and even putting on makeup all contribute to the growing issue of distracted driving. Oftentimes, drivers underestimate the dangers and consequences of these actions.  
The reality is that any non-driving activity that takes a driver's attention away from the road can have devastating consequences. According to the National Highway Traffic Safety Administration, there are over 390,000 injuries and around 3,000 fatalities in the United States each year due to distracted driving. 
Distracted driving is a form of negligence that can cause car accidents. There are three types of distracted driving: visual, manual, and cognitive. Putting on makeup can qualify as all three, for example:
Visual distractions take your eyes off the road: a person applying makeup may be either looking in their visor or rearview mirror while putting on makeup, or looking through a bag for a makeup item.
Manual distractions take your hands away from the wheel: the person will be using one free hand, or possibly both hands temporarily, to hold and apply the makeup.
Cognitive distractions take your mind off driving: a person trying to apply their makeup properly will be focused on this task, not on the road.
What to Do After a Car Accident Caused by a Driver who was Applying Makeup
Getting into a car accident can be a highly traumatic experience. In such cases, it is essential to seek legal assistance from an experienced car accident lawyer. A competent distracted driving lawyer can help you navigate the complexities of legal procedures to ensure that you receive fair compensation for any injuries or damages sustained in the accident. 
They can also investigate and gather evidence to establish the negligence of the other driver and hold them accountable for their actions. This may include:
Getting witness statements

Checking nearby security and traffic cameras

Searching the driver's social media pages

Obtaining phone records during the time of the accident
If you find yourself in a car accident caused by a driver applying makeup, do not hesitate to seek the services of a car accident lawyer who can help ensure that your rights are protected.
Work with an Experienced Car Accident Lawyer in Houston
For experienced guidance after a car accident, you can count on our team. We provide valuable information and support that will help guide you through the entire process. Our qualified legal advisors have the experience and knowledge to provide the best representation in any case.
With our free consultation, you can benefit from knowledgeable assistance without worrying about financial costs. Take advantage of this opportunity today and get the support you need to get justice. 
Don't let complicated proceedings prevent you from pursuing the compensation you deserve; call us today and let us help you take control.