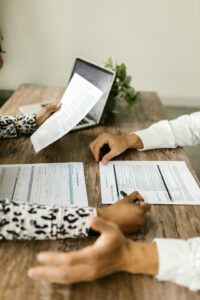 After a car accident, many people choose to go through the at fault driver's insurance company to settle their case. You might wonder if you still need a car accident attorney if you plan to go through the insurance. While it is possible to settle an insurance claim without a lawyer, your attorney can help you in many ways with your claim. In this article, we'll explain why you should consider hiring an attorney for your car accident claim in Houston.
Why Hire a Car Accident Attorney to Handle My Third-Party Auto Insurance Claim?
Dealing with the other driver's insurance company can be pretty complicated and stressful. While the insurance adjuster may claim to be there to help you, it's important to remember that they are ultimately dedicated to their company's bottom line. This generally means that they will look for any reason to pay you less or even nothing at all after your car accident. 
Just because you file an insurance claim against the at fault driver's insurance policy doesn't mean that you will receive what you need to cover your accident-related costs. Your Houston car accident lawyer is here to help defend your rights after a car accident. They can work with the insurance company on your behalf to get you the compensation you need after a car crash. 
There are several things that may complicate your car accident insurance claim. For instance, if you have high expenses for injuries, property damage, and non-economic damages, this may be more complicated, as insurance companies typically hate paying out large claims. In addition, some insurance companies use tactics to avoid paying you what you need, such as denying all claims or using even small details to undervalue your case. Your car accident attorney is here to help you avoid these situations through their experience and legal knowledge.
How Your Houston Car Accident Lawyer Defends Your Rights in a Car Accident Case
Your lawyer can help you in many ways with your auto accident insurance claim. For example, when you file a claim, you typically must submit evidence of the other driver's negligence as well as documents supporting your demand amount. Your car accident attorney can help you gather all this information and file the proper paperwork for your claim. 
Your attorney also helps you protect your rights by reading through all releases before you sign them. A common tactic insurance companies use is having you sign a release for your medical records. The idea is to provide them with evidence of your injuries and the treatment you received. However, some companies word these broadly so they can obtain all your medical records and use them to hunt for a pre-existing condition or any other reason to deny or reduce the value of your claim. 
In addition, your attorney can communicate with the insurance company on your behalf. This is an important service. The problem is that many statements you might make casually in a conversation may be twisted and used against you. One common example is if the adjuster asks how you are and you say you're okay or fine. They may try to use that to discredit your claim for medical bills and pain and suffering compensation. Therefore, even for seemingly minor conversations, it helps to direct the adjuster to your lawyer instead. 
Another way your Houston personal injury lawyer can help with your case is negotiating with the adjuster. Generally, there is room to negotiate after an adjuster offers a settlement amount. It's helpful to have a skilled negotiator take care of this for you to help your chances of receiving maximum compensation for your car accident. 
Find a Top Houston Personal Injury Lawyer at Maida Law Firm
When you need a car accident attorney, call our team at Maida Law Firm. We offer experienced legal services for car accidents and other personal injury cases. Our seasoned legal professionals are here to represent you throughout your case to help you get the highest settlement or award for your car accident. If we don't win your case, then you owe us absolutely nothing for our services. Get in touch now for a free consultation with our lawyers.